TELL ME MORE
L'Oreal have two calendars filled with products from their luxury brands, so think Lancome, YSL, Kiehl's, Giorgio Armani and Viktor & Rolf. The calendars are currently a European offering and there are 24 days for her and also for him.
L'Oreal Luxury Women Calendar – BUY NOW
CONTENTS
Biotherm Aqua Glow Face Mask 31ml
YSL Touche Éclat Highlighter 2.5ml
Lancôme Hypnôse Mascara 6.2ml
Giorgio Armani Eyes To Kill Calssico Mascara 2ml
Lancôme Hydra Zen Gel Cream 5ml
Biotherm Life Plankton Ampoule 1.3ml
YSL Black Opium Body Fluid 50ml
YSL Mini Blush Lipstick 1.5g
Biotherm Shower Milk 75ml
Biotherm Life Plankton Facial Serum 7ml
Lancôme La Vie Est Belle Edp 4ml
Biotherm Blue Therapy Facial Care 10ml
Giorgio Armani Code Shower Gel 75ml
Kiehl's Pur Vitality Face Cream 5ml
Lancôme Eyeliner Pencil 0.7g
Lancôme Rénegie Multi-Lift Face Cream 15ml
Viktor & Rolf Flowerbomb Shower Gel 50ml
Biotherm Blue Therapy Eye 5ml
Kiehl's Cannabis Sativa Seed Moisturizing Serum 4ml
Biotherm Life Plankton Face Mask 15ml
Lancôme Idôle Body Milk 50ml
Giorgio Armani Sì Passione EDP 7ml
Biotherm Life Plankton Body Milk 75ml
Lancôme Rénergie Ultra Yeux Eye Cream 3ml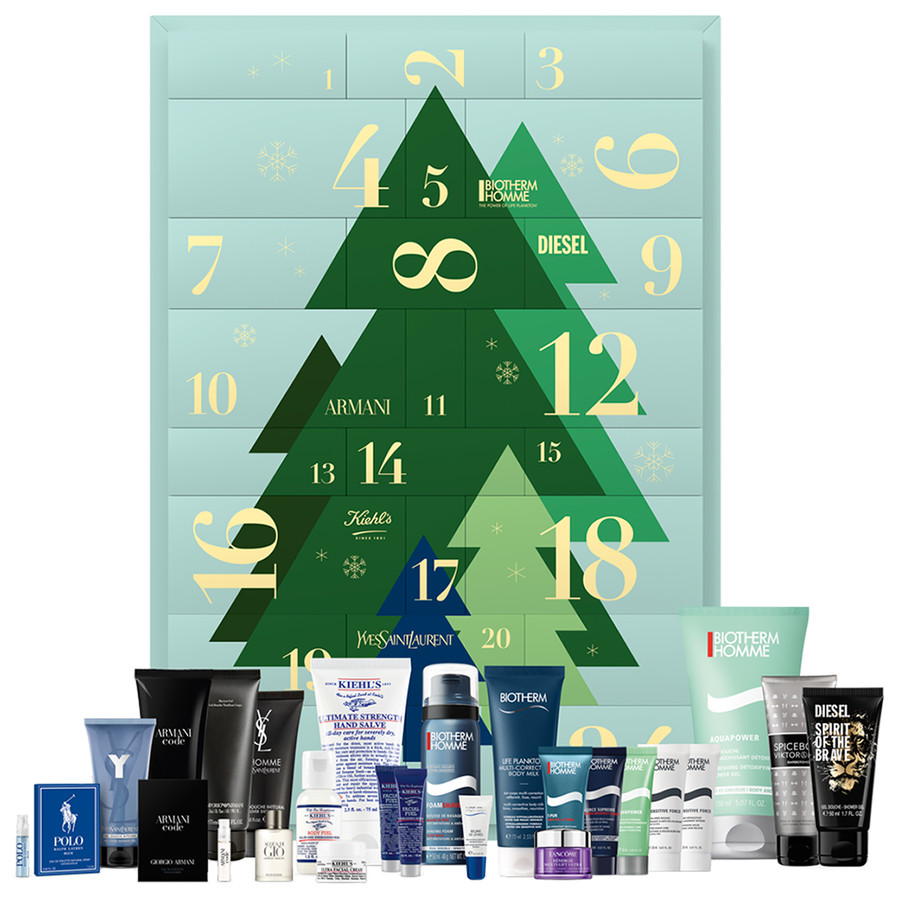 L'Oreal Luxury Men's Calendar – BUY NOW
CONTENTS
Kiehl's Ultimate Strength Hand Cream 75ml
Armani Acqua Di Gio EDT 30ml
Biotherm Aquapower Shower Gel 150ml
Biotherm Sensitive Force Facial Care 20ml
Viktor & Rolf Spicebomb Shaving Cream 50ml
Kiehl's Body Fuel All-In Shampoo 30ml
Kiehl's Facial Fuel Face Scrub 15ml
Diesel Spirit Of The Brave Shower Gel 50ml
Giorgio Armani Code Shaving Foam 75ml
Biotherm Homme Aquapower Facial Care 20ml
Kiehl's Ultra Facial Facial Care 7ml
Biotherm T-Pur Care Gel 20ml
Biotherm Beurre De Lèvres Lip Balm 5ml
Lancôme Rénegie Multi-Lift Face Cream 15ml
Ralph Lauren Polo Blue EDT 1.2ml
Emporio Armani He Shower Gel 75ml
YSL New Y Shower Gel 75ml
Biotherm Sensitive Force Facial Balm 20ml
YSL L'homme Shower Gel 50ml
Giorgio Armani Code EDT 1.2ml
Biotherm Force Supreme Facial Care 20ml
Biotherm Homme Shaving Foam 50ml
Kiehl's Facial Moisturizer 15ml
Biotherm Life Plankton Body Milk 75ml

This post may contain affiliate links, meaning when you click the links and make a purchase, we can receive a commission.